2020+ J-300 ProFinish Skirt Panels
Style
8105-302U
8105-318U (corner)
8105-307U
8105-301U
8105-317U (corner)
8105-312U (corner)
8105-294U
8105-300U
8105-299U
8105-302Y
8105-318Y (corner)
8105-307Y
8105-301Y
8105-317Y (corner)
8105-294Y
8105-300Y
8105-312Y (corner)
8105-299Y
8105-302D
8105-318D (corner)
8105-307D
8105-301D
8105-317D (corner)
8105-294D
8105-300D
8105-312D (corner)
8105-299D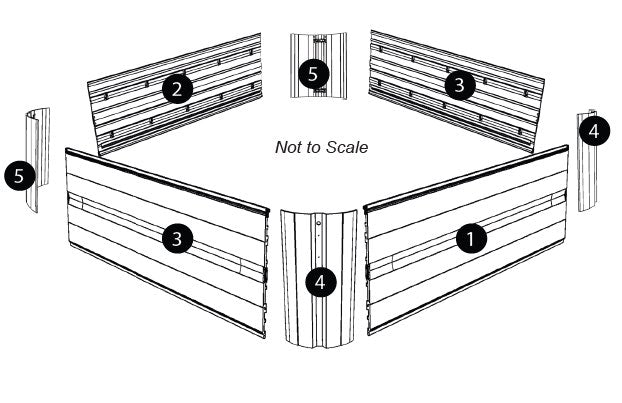 The ProFinish Skirt panels are available in Brushed Gray, Smoked Ebony and Modern Hardwood finish.
These panels are special order and once ordered are non-refundable. Ensure you order the correct skirt or ask for assistance. Panels are not in stock at time of order.
Note: Corner panels are not pre-drilled for the corner lighting kit. 
2020+ J-300 ProFinish Skirt Panels
Brushed Gray:
| | | | | | |
| --- | --- | --- | --- | --- | --- |
| Model  | 1 (Front)  | 2 (Back)  | 3 (Side)  | 4 (Front Corner)  | 5 (Back Corner)  |
| J-385  | 8105-302U  | 8105-302U  | 8105-302U  | 8105-318U  | 8105-318U  |
| J-375  | 8105-302U  | 8105-302U  | 8105-302U  | 8105-318U  | 8105-318U  |
| J-365  | 8105-302U  | 8105-302U  | 8105-307U  | 8105-318U  | 8105-318U  |
| J-355  | 8105-302U  | 8105-302U  | 8105-307U  | 8105-318U  | 8105-318U  |
| J-345  | 8105-301U  | 8105-301U  | 8105-301U  | 8105-317U  | 8105-317U  |
| J-335  | 8105-301U  | 8105-301U  | 8105-301U  | 8105-317U  | 8105-317U  |
| J-325  | 8105-294U  | 8105-294U  | 8105-300U  | 8105-312U  | 8105-312U  |
| J-315  | 8105-294U  | 8105-294U  | 8105-299U  | 8105-312U  | 8105-312U  |
Smoked Ebony
| | | | | | |
| --- | --- | --- | --- | --- | --- |
| Model  | 1 (Front)  | 2 (Back)  | 3 (Side)  | 4 (Front Corner)  | 5 (Back Corner)  |
| J-385  | 8105-302Y  | 8105-302Y  | 8105-302Y  | 8105-318Y  | 8105-318Y  |
| J-375  | 8105-302Y  | 8105-302Y  | 8105-302Y  | 8105-318Y  | 8105-318Y  |
| J-365  | 8105-302Y  | 8105-302Y  | 8105-307Y  | 8105-318Y  | 8105-318Y  |
| J-355  | 8105-302Y  | 8105-302Y  | 8105-307Y  | 8105-318Y  | 8105-318Y  |
| J-345  | 8105-301Y  | 8105-301Y  | 8105-301Y  | 8105-317Y  | 8105-317Y  |
| J-335  | 8105-301Y  | 8105-301Y  | 8105-301Y  | 8105-317Y  | 8105-317Y  |
| J-325  | 8105-294Y  | 8105-294Y  | 8105-300Y  | 8105-312Y  | 8105-312Y  |
| J-315  | 8105-294Y  | 8105-294Y  | 8105-299Y  | 8105-312Y  | 8105-312Y  |
Modern Hardwood
| | | | | | |
| --- | --- | --- | --- | --- | --- |
| Model  | 1 (Front)  | 2 (Back)  | 3 (Side)  | 4 (Front Corner)  | 5 (Back Corner)  |
| J-385  | 8105-302D  | 8105-302D  | 8105-302D  | 8105-318D  | 8105-318D  |
| J-375  | 8105-302D  | 8105-302D  | 8105-302D  | 8105-318D  | 8105-318D  |
| J-365  | 8105-302D  | 8105-302D  | 8105-307D  | 8105-318D  | 8105-318D  |
| J-355  | 8105-302D  | 8105-302D  | 8105-307D  | 8105-318D  | 8105-318D  |
| J-345  | 8105-301D  | 8105-301D  | 8105-301D  | 8105-317D  | 8105-317D  |
| J-335  | 8105-301D  | 8105-301D  | 8105-301D  | 8105-317D  | 8105-317D  |
| J-325  | 8105-294D  | 8105-294D  | 8105-300D  | 8105-312D  | 8105-312D  |
| J-315  | 8105-294D  | 8105-294D  | 8105-299D  | 8105-312D  | 8105-312D  |
Fast FREE Shipping
on orders above $49*
Huge Inventory
on popular hot tub products
Great Customer Service
call or chat with our dedicated team